F-CPU Team
F-CPU homepage v.8/7/2001
---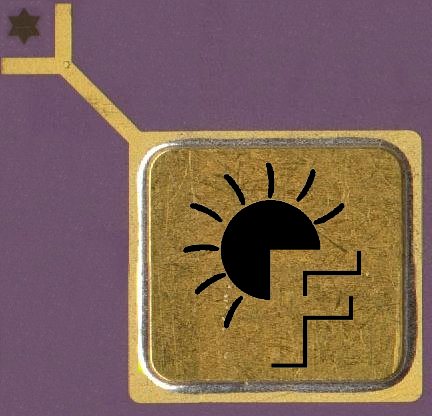 Welcome to the main F-CPU homepage !

What is the F-CPU ?

Newcomers are often troubled that there is no precise definition but here's a rough idea.
It is a group of people who speak about CPU design and reinvent the world and the wheel on a mailing list.
It is also (and it's certainly more interesting) the first purely SIMD superpipelined 64-bit RISC CPU, and the sources (or what can be considered as the beginning)are distributed under the terms of the GNU licence (supplemented by a charter).
You can compare it with a "Bourbaki" group for computers, or the "Linux of the CPU world", it's a strange mix of utopia, realism and creativity. But most of all : the F-CPU is what you make with it, it's nobody's and everybody's CPU.


The F-CPU's team philosophy is :
TO DESIGN AND TO LET DESIGN

This site is a gateway to the other sites which have contents and recent news.
Newcomers : read the manual (or an old online version) and subscribe to the mailing lists.
There is a french brochure if you are french and in a hurry (and not picky about up-to-date contents).
Mail us to add other URLs and news or if you have any remark. Don't be shy, nobody will byte you :-P


Done :


Incredible ! For the first time since the creation of the F-CPU project, we are "moving" the main english mailing list over to the seul.org server. Please update your configuration !!!
I have created a little map so that you can understand why it is so difficult to keep all the sites up to date ;-)
SEUL.ORG has opened personal accounts to the f-cpu contributors, with ssh, ftp, etc. You'll find the most recent snapshots from whygee, Michael Riepe, Olivier Jean etc... The latest files of the manual are also put there before it is mirored to the other sites.
1st design bundle : the VHDL design files of the ROP2 execution unit have been released ! Other files, such as the multiplier, have then followed.
Logo contest : voted on apr. 7 1999

Ongoing :


If you follow the discussions on the mailing lists, you will find this snapshot useful. I can't garantee that i will update this file often, however, because i am working a lot on it and i can't spend much time online.
We are trying to setup EDA servers for online design of the CPU. If you have a spare computer, a high speed network access and free time, apply here !!! Read more about it here.
We are also trying to setup databases : a who's who and a task manager (mantis.f-cpu.org, hosted by APRIL.org). They will help enhance the frame of the project...
The mailing lists are being moved to different servers. Check below !
CVS ? We're trying to set it up at seul.org. GAOS.org is helping in the meantime. Apply here.
Manual : v 0.2 is being translated and updated in/to LATEX. It is going to take some "time" (months ?) too. A lot of time...
- The OLD HTML version can still be be read online at f-cpu.de or downloaded as a TGZ or a ZIP file.
-
- Translation to french has started (in LaTeX format) and is available from Philippe Trbich's site
- Translation to German has started (in LaTeX format) and is available from GAOS's CVSweb. No snapshot available, AFAIK.
- A Spanish translation has been recently proposed. Stay tuned.
We are seeking a good, stable and FREE (GPL'd) VHDL development suite, including schematic entry and interactive simulation.
Update : Some of the VHDL'93 files are developped with SIMILI from Symphony EDA, even though it is not a GNU tool.
Update 1/2001 : Cadence proposed FREE LICENCES to the NCSIM tool. If you need one, please tell us on the mailing list.
The F-CPU licence is currently being discussed with Graham and Jamil.
Update : Now it is a charter. the GPL can't be modified but we can add new terms that are both stronger, more subjective and more general. You can read the current version here.
"Association F-CPU" and "F-CPU Verein" in creation, some meetings in Paris for example during the "first jeudi" (look at the http://linuxfr.org site for informations).

Agenda :


March 12-16, 2001 : Neue Messe, Munich : visit at DATE2001, a major european EDA showcase.
Yo, that was fun :-) i got plenty of business cards, and met a lot of interested and curious people.
April 28-30, 2001 : OEKONUX conference
YG's speech was scheduled on the 28th, Graham (OpenCollector.org) and other known people were there too ! Check the next site updates for pictures and debriefing files.
Embedded Processor Forum 2001, June 11 - 15, in San Jose ?
New : The submitted paper was not accepted. Check the submitted presentation at f-cpu.de anyway.
IF MORE PEOPLE SUBMIT PAPERS, WE CAN HAVE A PANEL ABOUT FREE HARDWARE DESIGNS NEXT YEAR !!!
Aug. 2001 : HAL2001 !!!! We will be there en force and present some workshops with the help of the french site linuxfr.org.
Dec. 2001 : CU@18C3 in Berlin ! Look at the CCC website.
Other manifestations may be scheduled at any time, if possible 3 months minimum before it happens : stay tuned !

Other F-CPU places : (not exhaustive, not up to date)


Data and Mirrors

SEUL.ORG accounts
individual accounts, manual and other file snapshots,
at last something that lives :-)
Sourceforge repository
Sources for GCC port and assembler
(this site is deprecated/dead)
German site
VHDL files, some snapshots, (old) online manual, old site's archives, FAQ, IRC and more !
German site
CVS for VHDL files, manual and other files.
TUX site

online manual, old site's archives, FAQ....
(this site is deprecated/dead)
andercheran site

(empty/not really active yet)

Communication

old main mailing list

This is the original and historical mail archive of the group.
It is slowly moving to the seul.org server after the flood accident.
Do not use anymore, only for reading old messages.
main mailing list

New official and more secure mail server hosted by seul.org.
old french list

This old french speaking mailing list is kept for the archives only.
new french list

the french speaking mailing list ! Kindly hosted by april.org
german mailing list

german speaking mailing list (not yet moved to a safer server)

Misc.

Whygee's F-CPU page
latest news, roadmap, manual (to download), articles, public relations, photos from meetings, Association F-CPU, logo contest ...
(will close/move one day)
Mirror in Switzerland

mirror of the above site, old online manual
Mirror at Citeweb

mirror of the above site, online manual
Philippe Trbich

new french site, french manual and more ! Philippe translates the manual into french.
Publications

new french site that is dedicated to interesting papers about microprocessor architecture. It is designed by Philippe REYNES.
more to follow soon !
A mailing list has been setup by Graham Seaman to discuss about the F-CPU licence.
You can subscribe with these indications

Things that could be done :
This web site is mostly empty, but f-cpu.de and f-cpu.seul.org host most of the files and this gateway is light and fast to download.
Update and make all the pages and all the mirrors coherent. But we are developpers, not webmasters ;-)
Apply here if you want to help...
Make a page dedicated to other similar and friend projects. This is more or less done by Graham Seaman anyway, so check his site at the OpenCollector.

This site is registered in the
Utopia Computing Webring

---
index.html (C) May 27, 2001 by Whygee and other F-CPU contributors.
our loosy stats are here :-)